Healing at the Root + Guided Meditations
Tune in to Your Personal Alchemy of Good Sleep.
The Sound Sleep Alchemy Album was born from inspiration of my own, clients', friends', colleagues', and family's struggles with stressful or restless sleep, insomnia, waking up in the middle of the night, night terrors and nightmares, and more, as simple sleep hygiene tips did not always work. In my own experiences of terrible insomnia, I needed to go deeper to get to deep sleep; to the root. I am happy to share that I now have restful sleep and when I don't, I have ways to support myself.
Enjoy this culmination of many ancient and modern traditions including Somatic Experiencing, yoga tantra, Ayurveda, spiritual and energetic practices, scientifically-informed and embodied healing techniques, Chinese Medicine, and Family & Systemic Constellations.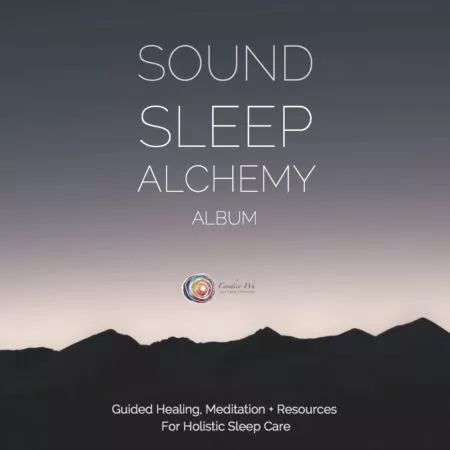 Listen to the Intro & Samples
Download the Digesting the Day Meditation for Free
The Sound Sleep Alchemy Album is Right for You if You:
Experience Insomnia
Feel strained, stressed or restless in your sleep
Have trouble falling asleep or staying asleep
Experience lethargy or tiredness even after having enough hours of sleep
Feel anxious about how much sleep you can get
Have light sleep or experience yourself being woken up
Experience night terrors or nightmares that disturb you
If you have a newborn or young child with an irregular sleep pattern that causes you disruption
You are pregnant and have disrupted sleep
Feel like you've tried everything with your sleep OR want to try something now or new
Your sleep issues disturb your daily life enjoyment, functioning or relationships
You want both sleep hygiene tips and deeper understanding of the root problems behind insomnia or sleep problems
You are looking for guided meditations and practices that directly help you fall asleep
You would like to resolve the deeper reasons for troubled sleep
You'd like a deeper understanding of yourself and your body's messages
You'd like to develop the foundation for a thriving dream life (both waking and sleeping)
What You Will Learn in This Album:
The factors that contribute to the quality and restful sleep through all the levels of the physiology: physical, energetic, mental/emotional, spiritual and pure consciousness.
How to ground and bring safety to the body for better sleep
Tools to sort, digest, and process what may be unresolved in your life that contributes to your sleep challenges
What ayurvedic type of sleep imbalance you may have
A basic introduction to the Ayurvedic doshas and an idea of your constitution and imbalances
Timing of best sleep according to your dosha/body's constitution
How to deeply change your beliefs around yourself and sleep and embody healing beliefs
Shift out of your family ancestry's Sleep Story and illuminating related intergenerational losses or trauma
How your nervous system baseline is involved in your sleep and how you can care for it
Illuminating the answers to what keeps you up at night? Or what may be hindering your deep rest
Basics of balancing your lifestyle and nutritional recommendations for better sleep
Essential oils and creative recommendations
Deeper awareness
Honoring your Essential Self + your Divine Being
The Sound Sleep Alchemy Album Includes the Following Audio Guided Meditations:
Yoga Nidra: Yogic Sleep for Releasing + Embodying New Beliefs
Down to Earth Body Scan

Digesting the Day Meditation

Taking Internal Inventory Meditation: Clearing Space and Attuning to Peace

Organic Breathing

Soothing Self-Touch + Body Care
Rest Recovery: Middle of the Night Relief
The Following Audio Guided Healing Experientials:
A Dose of Moon Light: Energy Healing Visualization for Sleep

Illuminate Your Ancestral Sleep Story

Resourcing Safety, Love + Peace
These Supportive Resources:
Resource Guide for going deeper and understanding
Moonbeam Marma Points (Acupressure) for Sound Sleep
Journal Exploratories for resolving problematic sleep

Exploration of Letting Die What is Decaying: Resolving the Unresolved

Goodnight Moon Yoga Poses: Restorative and Gentle Asana Recommendations and Photo Demonstration
And the Following Bonus Items:
Loving Kindness Meditation
Ayurvedic Doshas 101 Info Sheets
Ayurvedic Recommendations based on type of sleep imbalance
You can use all of the audios throughout the day to heal sleep problems and there are specific practices and audio meditations to help you when you can't fall asleep or when you wake up in the middle of the night.